The Patron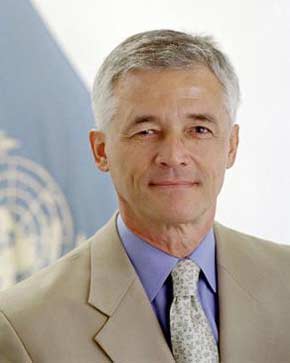 On December 03, 2008 and by means of Directive No. 949 of the Commander of the Brazilian Army, C I Op Paz received its historical name and was called after that "Sergio Vieira de Mello Center".
Sergio Vieira de Mello, an illustrious Brazilian citizen born in the city of Rio de Janeiro, worked at the UN for over 34 years. The importance of the services he had rendered to that Organization guaranteed the respect by everyone. His name is a solid international reference as a superb conflict manager, due to which he had always been appointed to the most difficult missions which involved, among many challenges, the reconstruction of countries devastated by armed conflicts.
For many persons, Sergio Vieira de Mello was the embodiment of UN´s principles and ideals. Bearer of an uncommon will to go to the ground and of the courage of men of action, of the charisma of the great leaders, of flexibility, pragmatism and firmness, he always showed meaningful results even when he faced difficult negotiations with corrupted governments and bloody dictators.
Former UN General-Secretary Kofi Annan used to say that Vieira de Mello was "the person tailored to give solutions to any problem".
For all those virtues, the historical appointment of the Brazilian Peace Operations Joint Center was named after that noble Brazilian representative. This appointment inspires more and more the hearts and minds of those blue berets and civilian comrades who serve and visit this military unit.
Sergio Vieira de Mello Memorial at the entrance hall of CCOPAB